Advocate Lutheran General Hospital
About
Experience and innovation drive our vision for patient-centered care. Our 350 specialists perform more than 20,000 heart procedures each year – that's more than any other provider in Illinois.
And, as a national leader in heart outcomes, we're pioneering the most advanced programs and technology.
Looking for a Trusted Doctor?
Our board-certified physicians are dedicated to keeping you and your family well. See us now with same-day appointments and easy online scheduling.
Advocate Aurora Health has been awarded a 2018 Top Workplaces honor by the Chicago Tribune. Thank you to our 70,000 physicians, nurses and team members for bringing our purpose to life.
Innovative Artificial Intelligence App Speeds Stroke Treatment
In January 2020, we became the first hospital in Illinois, Wisconsin and Indiana to use AI to reduce the time it takes to triage, diagnose and begin treating a stroke from an hour to as little as 6 minutes. When it comes to stroke care, every second counts to help preserve more brain cells and minimize the long-term impact of a stroke.
Named a Best Hospital by U.S. News & World Report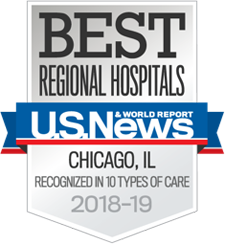 U.S. News & World Report has named Lutheran General Hospital a 2018-2019 Best Regional Hospital. In addition, Lutheran General Hospital has ranked high performing in cancer, colon cancer surgery, gastroenterology and GI surgery, geriatrics, heart failure, hip replacement, knee replacement, orthopedics, pulmonology and urology